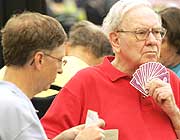 Bridge Lessons in Cincinnati, Naples, and Online
NEW STUDY SHOWS BRIDGE IMPROVES YOUR MIND AS YOU AGE! 
According to the journal Psychological Science, learning a new skill is your best bet to keep you mind sharp as you age.  In the study, older adults who spend three months learning complex skills such as bridge, improved their memory and cognitive function significantly compare to those who only socialized or did puzzles.  The key, the researchers wrote is to participant in a complex activity that requires active learning. Download a new Wall Street Journal Article – Bridge-Not Chess-Is the Ultimate Game.
If you ever wanted to learn bridge, there's no better time to start. You can take private bridge lessons in Cincinnati and Naples.
Warren Buffet and Bill Gates both play bridge. They learned that bridge is more than just a card game. It teaches logic, reasoning, quick thinking, patience, concentration, and partnership skills. At the table, you meet new friends, keep your mind sharp, and have fun. Bridge is an excellent hobby.
As boomers retire, they are looking for interesting things to do, and Bridge has attracted many of them.  It's a fun game with plenty of challenge. Bridge lessons will get you there.
Many who learned bridge years ago, and now are returning for bridge lessons to re-learn the game.  A lot has changed in the past twenty years.  Today's bridge player is more competitive and knowledgeable about the game.  Many find they need modern bridge techniques to play the game well today. According to Bill Gates, Microsoft founder and ACBL member:
"It's a game you can play at any age, and you can have fun doing it the rest of your life. A lot of games don't  have that depth. This one does."
We can help you learn the game or to become a better player.  Check out the small group bridge lessons in Cincinnati and Naples.  It's a great way to learn or improve your bridge skills. Or, if you don't have the time, and want individual bridge coaching, discover how a coach can help you quickly to learn or improve your bridge game.  For our advance players, discover a new way to learn 2/1 bridge.  Many players choose this bidding system to help them improve their bridge game.
 "Rob did a superb job of setting up what was a very successful, enjoyable, and more importantly, memorable session for Lindsay, Mark and me. Your  preparation in anticipating what would be good topics to cover and how to present them made for a very effective use of time.  I was amazed at how quickly Lindsay and Mark jumped on board and got fully engaged. With many, many thanks for your good will and excellent teaching skills." …LJ

 
Download a new Wall Street Journal Article – Bridge-Not Chess-Is the Ultimate Game.
To schedule your bridge lessons in Cincinnati and Naples, or get more information —  contact Bob or call him at 513-772-5115 in Cincinnati, or 239-280-2133 in Naples, Florida during the season (November through March).
"Rob was a lucky find for us!  We had great bridge lessons in Naples.   Thanks to his expertise and insight as a bridge player and instructor we are ready to take our game to the next level." – Dorothy and Joe Ambrose